Suzanne's Fruit Farm is a family farming operation owned and operated by Sylvia and David Reddin since 1975, with three farming locations: Main Farm, Highway Orchard and Emma's Place (named after granddaughter, Emmalou).
In 1977, our fruit farm took on its official name after the birth of our first child, Suzanne, and has been known as Suzanne's Fruit Farm ever since. Daughter, Allison, was born four years later. Granddaughter Autumn's picture is used in all of our highway billboards.
With a tomato farmer as a father, David knew the special feeling and pride of growing crops on one's land and seeing them grow. For this reason, David was drawn to horticulture, receiving a Bachelor of Science in Agriculture and Master of Science from the University of Arkansas at Fayetteville. While working on his Masters, David did research work under Dr. Joe McFerran, Head of the Horticulture Department at the time.
After Sylvia and David graduated from the U of A, David received jet fighter training in the Marine Corps, completing the officer's training course (OCS) at Quantico, VA, and Marine Corps Flight Schools in Florida, Georgia and North Carolina. He was qualified to fly in the F-4 Phantom Jet as a Radar Intercept Officer (RIO). Major Reddin later became the Commanding Officer of the Marine Corps Reserve Unit at Texarkana, TX.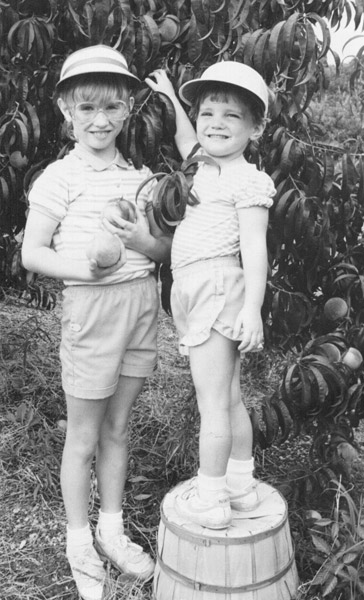 Both Sylvia and David are now retired from the federal government—David with 32 years in National Defense and USPS and Sylvia with 33 years with National Defense, USDA, and lastly with the USPS as a Postmaster.
(David taught agriculture at Hampton High School for a year.) Since retiring, Sylvia and David now have the time to put their 'heart and soul' into their farming.