Visit Us to Pick Your
Favorite Fruit in Arkansas!
Located in South Central Arkansas, Suzanne's Fruit Farm is 155 acres of great family fun that specializes in 'you pick or we pick' peaches, plums, blueberries, blackberries, muscadines, scuppernongs, and pumpkins. In business since 1975, the Reddin family is proud of its farm and its farming heritage. They invite you to visit the farm during harvest season (June through October) for a 'nostalgic country experience.'

Since 1975, it has been a privilege to share our orchard, the farm experience, and the lifestyle that we love, with thousands of families from all across our country. Many families plan their vacations to coincide with our harvest season.
In 2005 we expanded our business with the purchase of more farmland, adding more peach, plum, blackberry, and blueberry varieties that will come off in 2008 and 2009. In 2006 we added our own jams, jellies, fruit spreads, preserves, syrups, fruit butters , and hand-crafted baskets of all types. We hope to continue to grow and expand the orchard and farm to give you and your family a great farm experience filled with treasured memories.
A day at Suzanne's Fruit Farm is packed with old-fashioned fun for the entire family! Children experience the fun of picking their fruit, and everyone enjoys the farm fresh flavor of their harvest.

Stroll through our orchards, berry patches, and vineyards during the months of June, July, August, and September and pick your own tree-ripened and vine-ripened fruit.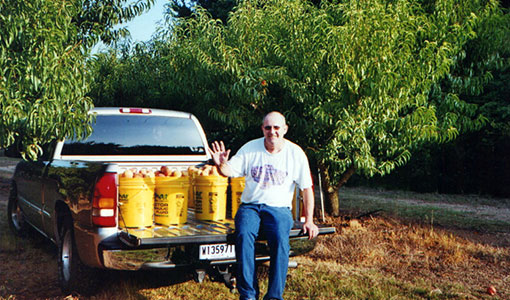 AND, don't forget to experience old-fashioned family fun at our fall festival in late September through October 31, which will include hayrides, John Deere train rides, pumpkins, ferry rides, hay climbs, a corn maze, horse trainer rides, zip lines, a miniature barn, nature trails, slides, photo ops, authentic Indian tipis, pirate rope climb, an authentic pirate ship, and more! We hope you will make Suzanne's Fruit Farm the farm where you and your family can enjoy a relaxing, memorable day in the country.

Take home some of the finest peaches, blueberries, blackberries, plums, muscadines, and scuppernongs that you'll ever taste!